The Launching of the Vietnam Youth Integrity Survey (YIS 2019) has recently taken place on September 10, 2019 in Hanoi and two days later in Ho Chi Minh City. More than 120 delegates attended two events, including representatives of state agencies (Government Inspectorate, Central Committee for Internal Affairs), research institutes, universities, national and international non-governmental organizations, and journalists. Noticeably, the event attracted the participation of a large number of young people – the target group of YIS.
YIS 2019 examines over time Vietnamese young people's understanding of integrity, their concrete experiences and the challenges they face in exercising their values in daily life. This is the third time Towards Transparency conducted this survey in Vietnam, following 2011 and 2014 editions. The data was collected from October 2nd to November 29th 2018 through face-to –face interviews with 1,173 young people aged 15-30 and a group of 465 adults aged 31-55 in twelve cities and provinces across Vietnam. The data collection was conducted by Indochina Research. The data analysis and report writing was performed by Towards Transparency with external reviews. YIS 2019 was funded by the Embassy of Ireland in Vietnam and Canada Fund for Local Initiatives Vietnam.
The launching started with the speech from Ms. Elisa Cavacece, Deputy Head of Mission, Head of Development, Embassy of Ireland in Vietnam. Following that, Mr. Chris Levon, TT's Senior Advisor, Research Coordinator, and Ms. Nguyen Thi Kieu Vien, TT's Director presented the research methodology, main findings, and recommendations from the survey. This is followed by the Discussion and Q&A section, where invited speakers shared their views and opinions on the survey's results, then opened up the discussion to the participants.
In Hanoi, the seminar was moderated by Mr. Le Quang Binh, President of People's Working Group (PPWG). The panalists included: Mr. Nguyen Minh Thuyet, Former Vice Chair of National Assembly's Committee for Culture, Education, Youth and Children, member of the TT's Advisory Board; Mr. Nguyen Quoc Van, Director of Inspectorate Strategy and Science Institute, Government Inspectorate; Pham Tra My, Student of National University in Hanoi; and the research team.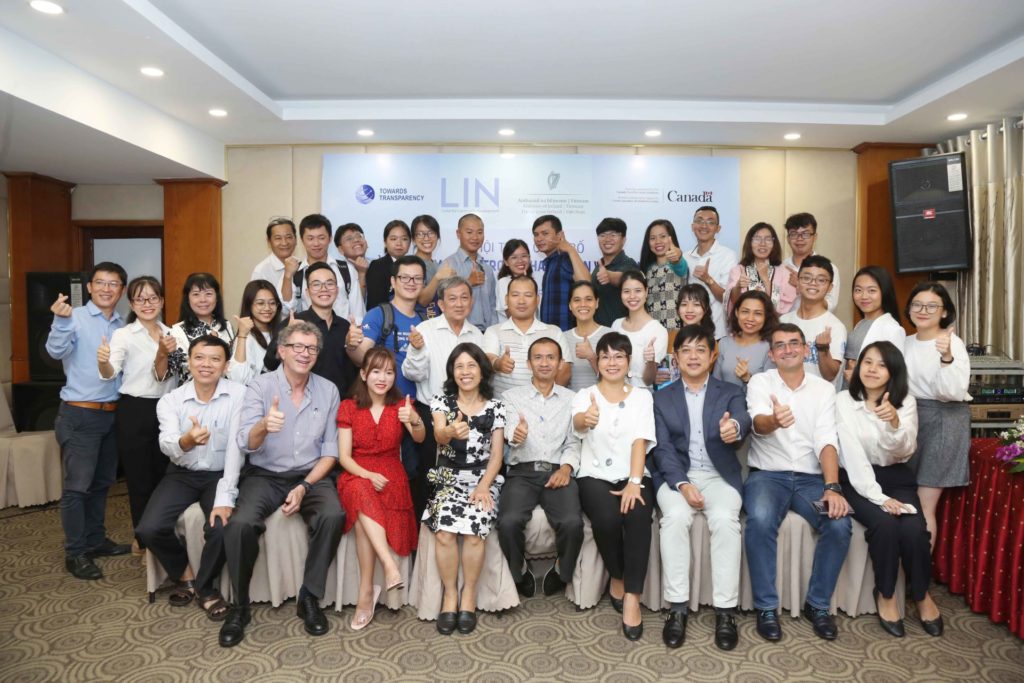 The Launching in Ho Chi Minh City
In Ho Chi Minh City, the discussion was moderated by Mr. Pham Quoc Loc, former Vice Principal of Hoa Sen University, Lecturer at RMIT University, with the participation of Ms. Bui Tran Phuong, Founder of NES Education; Mr. Pham Truong Son, Deputy Director of LIN Center for Community Development; Ms. Ho Thi Phuong, Student of Tay Nguyen University; and the research team.
YIS 2019 reports can be downloaded at:
Executive Summary: English Vietnamese
Full Reports: English Vietnamese