LAW AND ENFORCEMENT
Since its inception, strengthening legal framework and law enforcement on anti-corruption has been amongst TT's top priorities. To date, TT has achieved the following results:
Since 2009, TI and TT have produced a number of qualitative and quantitative research reports to build evidence on corruption and anti-corruption in Vietnam, for example: Corruption Perception Index (CPI), Global Corruption Barometer (GCB). These reports have been considered as an useful source of reference for State agencies in assessing the anti-corruption work in Vietnam;
TT produced the survey report in support of the Government's self-assessment of the implementation of the United Nations Convention Against Corruption (UNCAC) in Vietnam in 2011. This is one of TT's activities to stimulate broader society's participation in support of the Vietnamese Government's efforts to implement the UNCAC. TT was named on UNCAC Coalition's website as an anti-corruption organization in Southeast Asia.
TT has contributed inputs and recommendations to law drafters for improving anti-corruption legislations, especially Anti-corruption Law (amended) in 2018, Law on Access to Information in 2016, Penal Code 2015 (amended in 2017) and relevant under-law guidelines.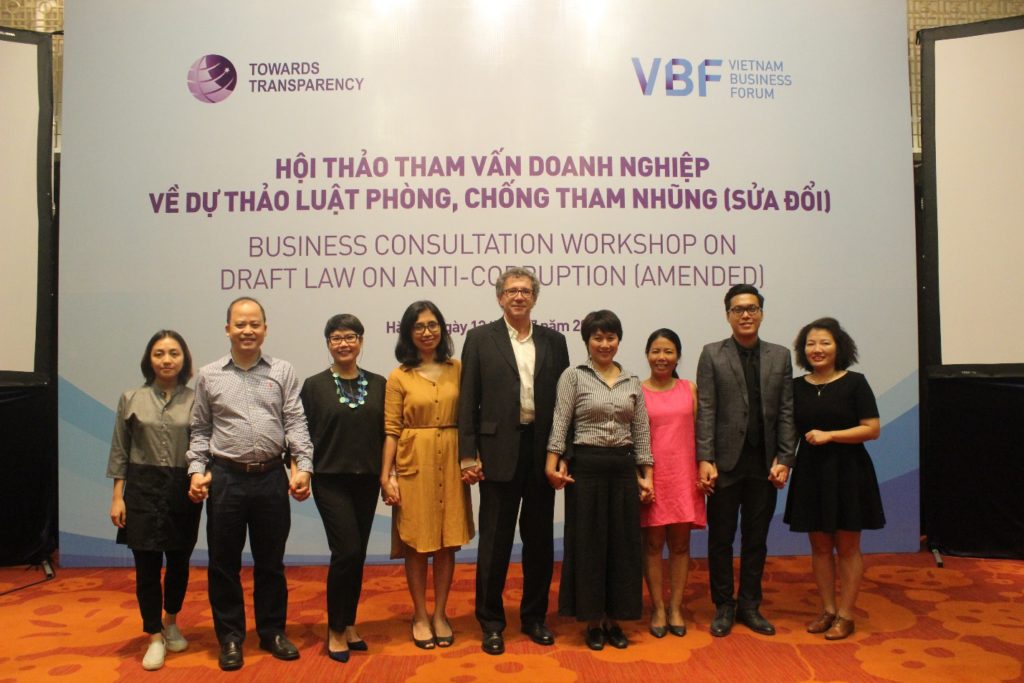 BUSINESS INTEGRITY'S  KEY RESULTS
TT has increased the interest, awareness and commitment by businesses to tackle corruption risks through our successful activities:
Supporting the scaling-up of the champion Sai Gon Hi- Tech Park's successful experience to two other national high-tech parks, thus bringing collective action to promote business integrity to a wider scale;
Providing training for 30 Vietnamese companies on how to minimize corruption risks;
Finishing several studies to raise awareness on corruption challenges faced by companies and to recommend them to apply anti-corruption prevention measures in line with international standards;
Conducting successfully a series of studies to measure information disclosure practices for biggest companies in Vietnam – Transparency in Corporate Reporting (TRAC) with the purpose of creating momentum for and motivation by a number of the assessed companies to be more transparent.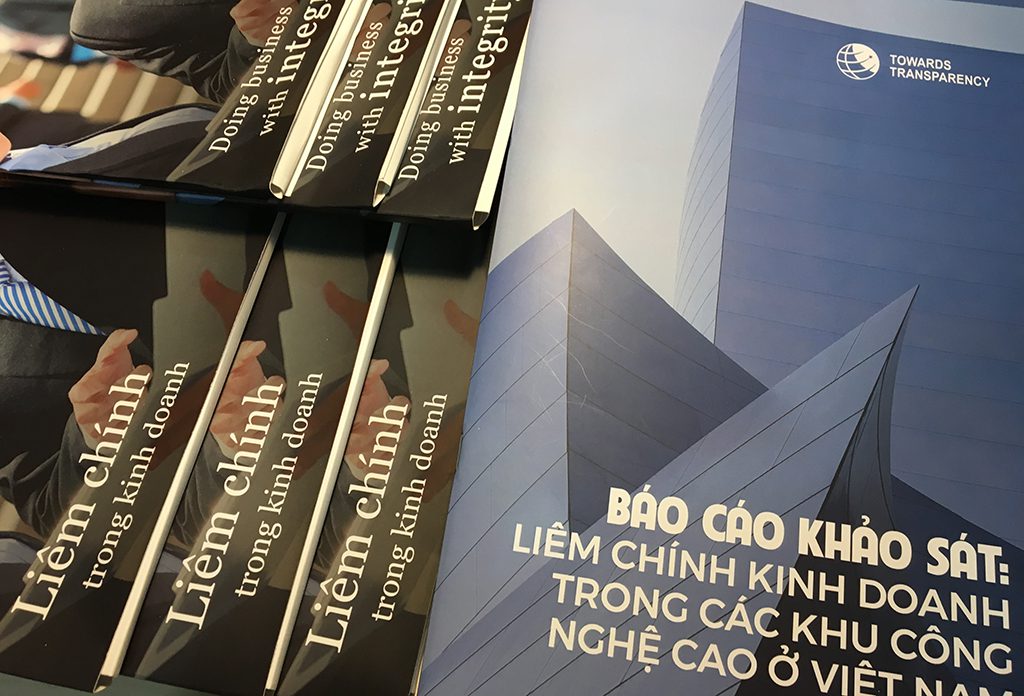 YOUTH INTEGRITY'S  KEY RESULTS
In recent years, one of key youth integrity activities TT are doing is organizing Vietnam Integrity School.
Vietnam Integrity School (VIS) was born in 2017 to create a space for young Vietnamese people aged 18-30 from all over the countries to learn, understand, practice and promote integrity by developing and working on their own ideas and projects. The program is funded by Irish Aid from 2018 to 2021.
The first two schools for VIS involved 86 students chosen from different demographics and social backgrounds. They were subject to 10 different lectures over three days, from experts on anti-corruption and governance from national and international institutions.
The students were also encouraged to develop projects to promote integrity in their own communities. Those projects included the organisation of mini-VISs in local communities, a project aimed at reducing corruption among traffic police called Traffic Integrity, a project aimed at promoting integrity among primary school students, and the organising of Integrity Café talks.
VIS is new but already has a following. Vietnam's youth are well connected via social media platforms and the first public announcement of VIS posted on Towards Transparency's Facebook page received over 12,000 views.
High school student Lan Nguyen is from a small village in the mountains of northern Vietnam. The opportunity to take part in the VIS has changed his life as he is now better able to understand what true integrity is in relation to his studies.
"I very much enjoyed the discussions on integrity and education," he said. "It resonated so much with me and helped me to realise that in many instances I acted without integrity in my school studies. The lectures motivated me to change myself in regard to how I study and take exams. It also encouraged me to push for more integrity across the broader education sector in Vietnam."
Even with VIS's successes, it is still very challenging to engage youth on anti-corruption in Vietnam. Actions developed by Vietnamese youth following VIS need to be nurtured.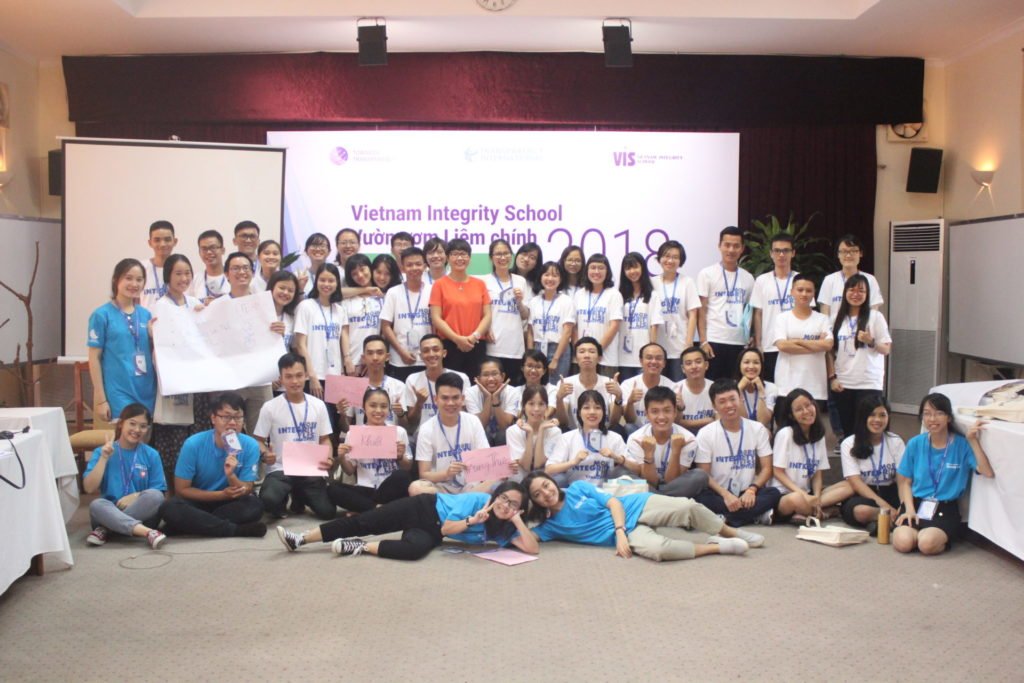 Open Government Partnership
The Project "Increasing Governance Effectiveness in Vietnam through the Open Government Partnership (OGP) Initiative" (hereinafter named as the OGP Project) aims to advocate for the Open Government Partnership (OGP) as an innovative international platform to promote transparent and accountable governance in Vietnam.  In order to achieve this aim, the project focuses on:
Raising awareness of key state agencies on OGP;
Identifying and building partnership with the appropriate State actors to secure their political support for OGP;
Strengthening civil society's understanding of OGP and their role in this initiative
Open Government Partnership (OGP) is an international, voluntary effort to improve government performance, encourage civic participation and enhance government responsiveness to people. It aims to secure concrete commitments from governments to promote transparency, empower citizens, and fight corruption and harness new technology to strengthen governance. In pursuit of these goals, OGP provides an international forum for dialogue and sharing ideas and experiences amongst governments, civil society organizations, and the private sector, all of which contribute to a common pursuit of open government.
TT's pioneering role in advocating OGP: TT started advocating for Vietnam's participation in OGP in 2014.
To date, TT achieved the following results regarding the OGP advocacy in Vietnam:
Creating and leading an OGP Civil Society Working Group of 12 members to promote transparency, accountability, people participation through OGP framework. The members are mostly from local CSOs and academia, working on the voluntary basis;
Creating evidence to enhance the added value of OGP to the country development (e.g. how transparency, empowered citizens, anti-corruption measures and new technologies – themes OGP advocates for – can strengthen governance and help Vietnam achieve its SDGs commitments);
Generating initial interest of some state agencies in OGP (Government Inspectorate, the National Assembly Office's Department of Finance and Budget, and the Ho Chi Minh National Political Academy);
Creating an OGP Vietnam website (in both English and Vietnamese languages) serving as a knowledge hub on OGP in Vietnam (OGP Vietnam web link: http://ogpvietnam.org/)